Snort Whitelisting aktivieren bei pfsense 2.0
2011-11-25
pfSense,Snort,Firewall,DE
Wie man bei der Open Source Firewall Distribution pfsense 2.0 ein Snort Whitelisting zu IP Adressen aktiviert ( Snort Package Version 2.9.1 pkg v. 2.0 ).
Übersicht
1. Whitelisting erstellen / editieren
In pfsense einloggen und zur Whitelist Tab navigieren, anschliessend editieren auswähen:
Services > Snort > Whitelists >

(edit whitelist)

Daraufhin gelangt man zur Editierseite: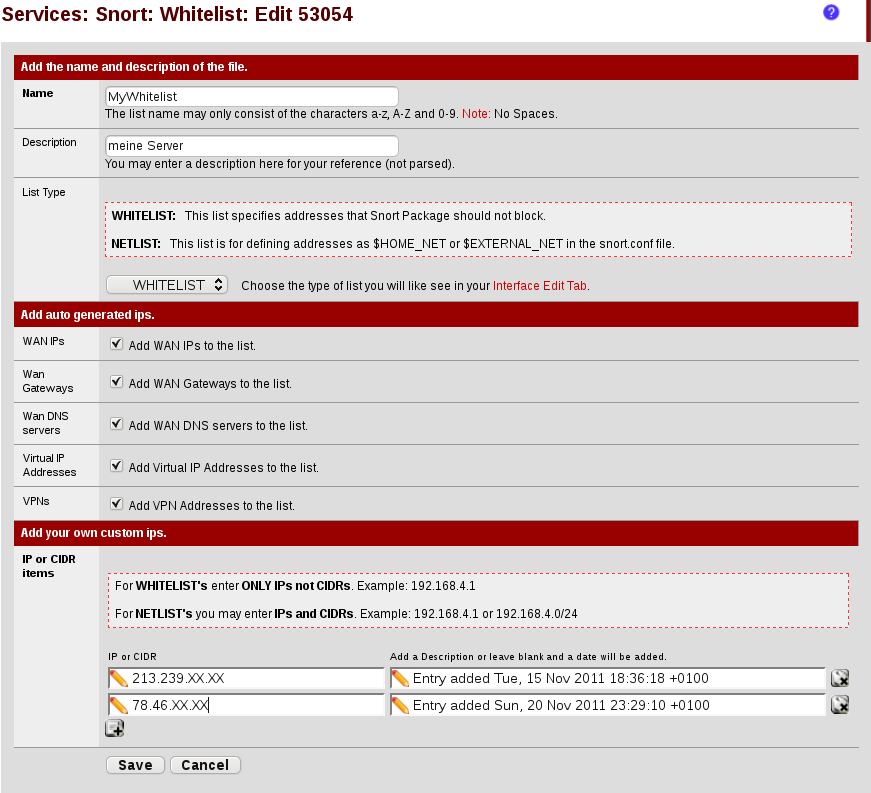 Name: Hier einen beliebigen Namen (reiner Bezeichner) angeben, unter dem man die Konfiguration speichern möchte. In diesem Beispiel gebe ich "MyWhitelist" ein.
Description: Man kann auch eine Description (Beschreibung) angeben , ist aber optional. In diesem Beispiel trage ich "meine Server" ein.
Unter der Sektion "Add your own custom ips." trage ich nun die IP Adressen ein, die freigegeben werden sollen. Es muss nur das linke Feld ausgefüllt werden (IP or CIDR).
Klick auf

---
2. Snort interfaces anpassen
Damit die Whitelist auch angewendet werden kann, muss diese noch aktiviert werden. Also zu Snort Interfaces navigieren, anschliessend editieren auswähen:
Services > Snort > Snort Interfaces >

(edit rule).

Daraufhin gelangt man zur Editierseite. Falls noch nicht geschehen, neben dem Punkt "Block offenders" das Häkchen setzen (aktivieren). Nun neben "Whitelist" die neu erstellte Whitelist "MyWhitelist" per Select-Box auswählen:

Unten auf der Seite auf

klicken.
Nun das Snort Interface einmal stoppen

und wieder starten

Fertig.
---
Links
siehe auch
Comments
Alejandro


Excelente, muchas gracias, me faltaba configurarlo en la interfaz, genial. Saludos.

---

Alejandro


Genial, muchas gracias por el tuto. Saludos.

---

Sahil


HiFirst of all thanks for your good and emoplcte article.Today IDS is mandatory in every network.But IPS is very more important. because only alert is not sufficient for network. Unfortunately you did not mention about snort in inline mode, with nfqueue or another method. and pros and limitation.I will be happy if you share your experiences about inline mode.Thanks in advance

---
Comment++
E-Mail Adresse wird nicht veröffentlicht.
E-mail address will not be published.